Cherry Blossom Season: Picture-Perfect Japan Tour
The iconic pink and white cherry blossoms that symbolize spring have begun to emerge in their native Japan to the delight of locals and visitors alike. Known locally as sakura, the delicate blossoms mark the must-anticipated change of seasons. Even though it might not feel like it yet in parts of North America, it is safe to say that spring is finally here!
Catching sight
Japan's cherry blossom season begins in March in the southwestern part of the island and slowly works its way north. Each year, Nagasaki's first blossoms appear in late March, and soon thereafter in Kagoshima, Osaka, Kyoto and Tokyo. In the country's northern region, the first blooms appear in April. The northernmost island of Sapporo is predicted to be last, with buds held tight until early May.
Keeping track of these delicate and unique blooms is not just a game for horticulture fans. The blossoms themselves only last for a few days, and it's only a week or so after the initial opening that the cherry flowers reach full bloom. It is partly this ephemerality that makes the cherry blossoms so spellbinding, as they embody the fleeting beauty of mortality. It's hard not to feel invigorated in the midst of erupting cherry blossoms, with petals dancing in the wind.
Where to go
Though the magnificent blossoms spring from cherry trees across the country, some Japanese locales lend more of a sense of grandeur than others.
The Shinjuku Garden in Tokyo is a spectacular place to visit, with 143 acres of majestic trees, shrubs, and flowers arranged artfully in international styles. The place becomes spectacular when the cherry blossoms take hold. Countless camera-wielding visitors stroll through the pink-colored wonderland and enjoy picnics beneath the gentle foliage.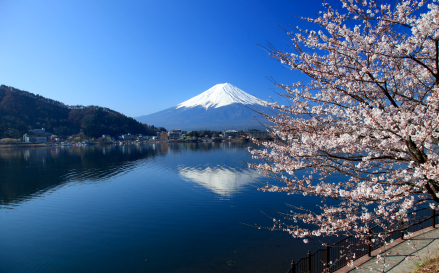 For a taste of rural Japanese flavor, some rural locations provide a stunning backdrop to the blooms. Mt. Fuji is and renowned and iconic choice, with the majestic snowcapped mountain offering a splendid and somber balance to the light and fragile presence of the blossoms. The best place to take in the mountain and the blossoms is possibly Lake Kawaguchi, where a perfect reflection of Mt. Fuji can be seen in the still waters of the lake. The reflection is called sakasa Fuji and, although considered a sight in its own right, it is made all the more impressive by the dabs of cherry in the portrait.
Start Planning
Your Next Adventure!
Your Own Private Expert Guide & Vehicle
Your Schedule, Your Budget, Your Preferences
Private Tours for 20% Less Than Premium Group Tours
Share This